AWARENESS MASSAGE
Lomi Lomi Hawaiian massage

 using Mana Lomi® lineage - from the Big Island
Barbara Helynn Heard, LMP
I teach lomil lomi massage continuing education classes in Washington State, the northeast (various states) and occasionally elsewhere on request.  The classes range from 2 hour introduction classes to a 12 day residential immersion class.  These classes are NCBTMB approved provider #287333.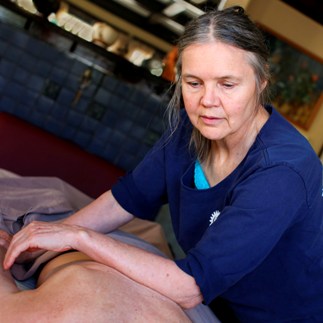 Do you dream of helping yourself and others manifest unlimited healing potential?
Have you ever wondered what it would be like to feel and easily visualize the tissues deep within your recipient's body, as if you could see right through their skin?
Would you like to know deep in your bones how to help your clients heal injured tissues, or and even injured spirits, and to have that inner knowing be second nature for you?  
Would you like to be confident giving massage for the conditions listed in the table below?
Would you like to work both clinically and with mind-body-spirit connection at the same time?
These are some of the gifts that Mana Lomi® has given me, and that I'd like to share with you.
Click here to view the lomi lomi continuing education class descriptions.  
Click here to view the lomi lomi continuing education class calendar, and to register.
I welcome "massage enthusiasts" into many of the lomi lomi classes I teach.
These are folks who are not professional massage therapists,
but simply people who give massage to family and friends.
Are you, like me,  committed to supporting the continuation and development of healing touch not only in professional massage practices, but also in everyday life?  I've come to realize that in our increasingly technological world, the continuation of manual skills, including massage, cannot be taken for granted; they must be intentionally practiced and taught to others.
Giving and receiving massage within our families and within our circles of friends is a wonderful way to connect with each other, to experience pleasure, and to support health and wellbeing on many levels.
Please join me in envisioning a world where every family includes at least one healer, and specifically  includes one or more persons who know how to use massage to support health and wellbeing.
To help create that reality, I welcome "everyday people" - people who don't do massage professionallybut who have a sincere desire to learn - into many of the classes I teach.  Is that you?  Please contact me for more information.
Lomi Lomi MASSAGE SESSIONS
I offer Mana Lomi® massage sessions at my office on Capitol Hill in Seattle, Washington.
Many of my clients are dancers, musicians, performers, massage therapists and other health practitioners, and regular participants in various fitness classes. Lots of my clients are people who are 50 or more years young and are committed to maintaining, or better yet increasing, their health and vitality as they age.
My clients appreciate the special attention I give to helping them increase their body awareness and improve their posture.  I've found that the more specifically we feel our bodies, the easier it is to move with grace and power.  To that end I integrate somatic awareness movement exploration into most of my massage sessions as an educational process of muscular retraining.
These are are some of the chronic ailments I have helped clients
heal and recover from, and/or live with:

Back and neck pain, including whiplash and disc problems
joint and muscular pain and dysfunction in the back, neck, shoulders, hips, knees and more
joint replacement
surgery preparation & recovery
sciatica
injuries from accidents, falls and repetitive use arthritis
lupus
fibromyalgia

headaches
asthma and other breathing problems
depression
emotional pain related to loss
high stress lifestyle
cancer
Parkinson's disease
poor or problematic posture
pregnancy
In this video I demonstrate Mana Lomi®  massage techniques.
The sound on this video is soft.  
Please turn the volume up, and eliminate external sounds  such as radio, etc. in order to best hear this video



"

I have worked closely with Barbara Helynn for the past 5 years. I enjoy many about her teachings: the work is so juicy, practical in it's application, and well delivered. The depth of knowledge that she works from inspires me to always find a way to put my best work forward for my clients' needs and my own vitality and longevity as a therapist. I highly recommend studying with Barbara Helynn!

"

Donna Hammers
massage therapist in Olympia, WA

~ 2010




"Taking your class has truly inspired me in so many ways, I am more intentional when I go into my massages. I stay present and in tune with my clients, I love it! Mahalo for being you!"

Amber Mauer

massage therapist in Kirkland, WA

~ 2010



Mahalo a  malama pono ~ thank you and take good care.
Barbara Helynn Robles
PS: "Lomilomi" and "lomi lomi" are alternate spellings for the same word.   I have used them interchangeably throughout this website.