love the body!
posture & body awareness in lomilomi
WHAT MAKES PEOPLE BEAUTIFUL?
What makes people look beautiful? To me our posture – the way we sit and stand and hold ourselves is at the top of my list. People who stand tall yet at ease look beautiful.   Lomilomi can help us stand tall.
SEASIDE CLIFFS AND THE MOON Pali ke kua, mahina kea alo.
our backs strong as cliffs  ~ our faces radiant as the moon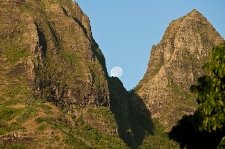 This traditional Hawaiian saying compares our backs to na pali – seaside cliffs that rise majestically along the shoreline with their supportive backsides securely embedded in the earth behind them. And, this saying also compares our faces to mahina – the moon high above the cliffs in the heavens radiating light which sparkles on the water below even as it also pulls and powers the waves which alternately lap or pound on the shores as they support life on earth.

When we stand tall allowing our backs to spread easily behind us like broad cliffs, our rear rib cages and wing bones solid and supportive, and when we also hold our heads high allowing us to see the bigger picture as our faces radiate light and love – then we are certainly beautiful!!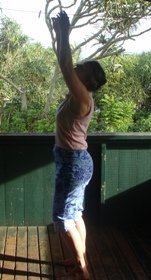 This special moon and seaside cliff imagery helps me dance hula beautifully, it helps me give healing massage, and it is an inspiration for me in my daily life! This image helps me stand tall!


MY DAUGHTER AS A QUEEN
As a teenager, my beautiful, free spirited, wild child, daughter got in some trouble. I remember the first time I saw her in court. She entered the courtroom dressed in orange jail overalls with her hands handcuffed behind her back – yet her head was up and she walked tall like a queen! Her hair was braided in small, neat corn rows resembling a crown.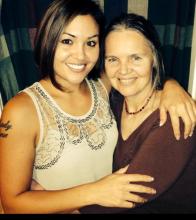 When I saw my daughter, I caught my breath in surprise and my chest swelled with pride for just an instant because she looked so stately and so beautiful!! Despite the unhappy details of her situation at that moment, her regal image is permanently seared in my memory. Ten years later as I cried tears of joy watching her walk in stately manner down the aisle at her college graduation, my mind replayed her walk into that courtroom in jail overalls.  Same regal young lady.  Whether in court or at her graduation, her strong, wide back and her head held high makes her beautiful!!! She came through those tumultuous times strong and still free spirited, beautiful and loving.  
That's her in the cream colored tank top and me in black.   She still stands tall and with her chest and heart open and vibrant.  I  have lots to learn by following her lead in this.  She's a born leader and continues to grow into her potential.  
SMILE! POSTURE AND EMOTIONS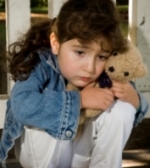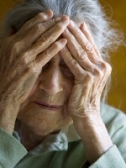 When I feel sad, discouraged or ugly, my head drops, my chest sinks and my body shrinks, contracts, tightens and shrivels.

When, on the other hand, I feel beautiful, I stand up straight and tall – my head is up, my chest is open and I breathe easily.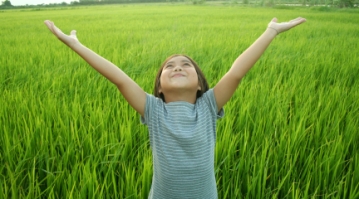 And of course the posture we customarily maintain vigorously affects – perhaps even dictates – the restriction and/or freedom in our bodies as well as our overall emotional wellbeing, or lack thereof. I am keenly aware of this as I massage people and as I teach lomilomi. I'm all about helping people discover ways not only to be pain free in their bodies and to feel their love and beauty, but also to stand tall!
DEVELOPING BODY AWARENESS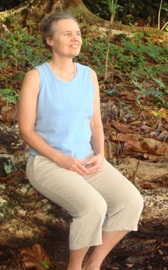 Dance and fitness classes have helped me to truly know my body and to improve my posture and refine my massage skill at least as much as, if not more than, the thousands of hours of massage continuing ed classes I've taken!
There is no question that Mana Lomi® can help relax tight muscles, fascia, bones and organs. Lomilomi can enliven lax, floppy and lazy tissues and can fine tune our bodies so we experience – sometimes temporarily and sometimes more long term – open and balanced posture. Lomilomi can relieve or ease back pain, neck pain, knee and hip pain, and it can eliminate headaches. Lomilomi can support healthy digestion.
YEAH for all of these and many other benefits of massage!! And, receiving massage can definitely feel wonderful like a rejuvenating and marvelously enjoyable vacation! Yet a big and important question is how long will these shifts in our bodies hold? What determines the answer to this question?
I find pain relief and easing of movement that I get with good massage lasts much longer as I improve my posture. Developing good posture has been a continuous, life long path for me and there's always room for improvement!

How am I developing good posture? – by becoming more aware of and in tune with my body. The more sensitive I become to feeling discrete movement in my body, the more graceful I become.
Dancing hula and participating in fitness classes (Somatic Unwinding® and Pilates) help me to better feel and know my body and therefore to improve my posture. They have helped me learn to play my body like a marvelous instrument. Dance lifts my spirits!! What a fabulous gift!
I've seen other people develop body awareness and healthy posture by playing tennis, by doing martial arts, by singing, by doing yoga, and by doing many other physical activities in which they develop their bodies as instruments. All these activities help people to know their bodies in a special way and master grace. And I love giving massage to dancers, musicians and other active people!!!
My wish and recommendation for all of my students and all of my clients is that you find physical activities that you enjoy, and especially activities that require skill, and make these activities a regular part of your lives!!! I wish this in order to bring joy into your lives and also to better maintain your health, flexibility and mobility as you age!!! And for you massage therapists reading this, improving our posture helps us to remain injury free and to give superior massages!
I aspire to love and be loved, and I aspire to stand tall and to radiate love and light. I'm grateful to others who have helped me to be the best that I can be, and I commit to helping others to be the best that they can be.
I'm grateful to be part of our wonderful, healing, growing and evolving family who share earth as our home. With the coming together of people from all corners of the earth, this is a very auspicious time to be alive! May all of humanity join together and be lovely, loving and loveable.
Thank you, all my dear readers. I send you my love.
Barbara Helynn Robles
Copyrighted 2010 Barbara Helynn Heard
For more information visit www.lomilomi-massage
Email barbaraheard at msn dot com
Olympia, Washington  All materials are copyrighted. If you would like to post articles on your website or use it as training material, permission is granted as long as all contact and credit information remains intact. Thank you.