Remember When it didn't Hurt:
8 Steps to a Pain Free Back
barbara helynn's recommendation


This powerful book by Esther Gokhale is a SIMPLE, EFFICIENT, HIGHLY EFFECTIVE & INEXPENSIVE RESOURCE to RELIEVE PAIN and/or DEVELOP HEALTHY, GRACEFUL POSTURE

8 Steps to a Pain Free Back teaches the basics of how to move and to rest: how to sit, stand, lie, walk and lift.
Here's what I like about this book:
The book is about half candid photos making it easy to understand what both ideal and compromised posture look like. By looking at the many photos of people with healthy posture from various cultures and time periods I am able to clearly see what I need to shift in the way I carry myself.  The illustrations showing how western fashion during the past century has made slouching and tail tucking fashionable are real eye openers.
The positions and exercises are also clearly illustrated with photos.  The exercises are gentle and can be done fairly easily by most people.  I easily understand most of the explanations accompanying these photos.
This book teaches simple patterns that once learned are easily integrated into everyday life as we sit, stand, walk, and do the many things we do without requiring us to commit additional time to do a specific series of exercises.  Of course, by reviewing the book occasionally we can learn more!
I also like the way 8 Steps to a Pain Free Back teaches patterns based on first simply repositioning bones rather by first engaging muscles.  The muscles follow naturally once the bones are in place.  For me this is the key to what makes these patterns simple to learn.
BACK TO BASICS * SIMPLE CHANGES * LIFE CHANGING * INSPIRATIONAL
Many people come across this book via the path of pain in their back, shoulder, hip, knee or elsewhere in their body.  Many rave about how this book and/or the classes Esther teaches have helped them relieve their pain.  Please go to Amazon and Esther's website to learn more, to see their extensive testimonies and to purchase this book.
I came via a different path.  As an active, passionate and upbeat massage therapist and massage teacher and a dancer in my mid 50s, I came across 8 steps to a Pain Free Back in my search for better posture and carriage in order to help me dance with more strength and grace, and to help me more effectively give and teach massage. 
I've experienced injuries over the years (shoulder, knee and toes) which resulted in steady, behind the scenes, low grade pain that contributed significantly to my somewhat guarded and stiff movement, and therefore limited my grace and strength.   This low grade pain however was not my focus when I picked up Esther's book.  Rather, my desire to move with grace and strength were my goals.  Studying this book has quickly and impressively moved me forward along this path and also reduced my pain.
Studying this book has helped me to breathe more easily and dance more gracefully.  My massage sessions and classes are both more effective as I incorporate my learning from this fabulous book.  I whole heartedly recommend this book to all my massage clients and students!
BACK TO BASICS * SIMPLE CHANGES * LIFE CHANGING * INSPIRATIONAL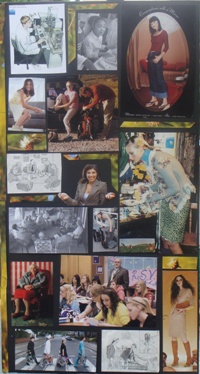 I was inspired to create these collages after studying 8 Steps to a Pain Free Back.  I use them in the lomilomi classes I teach as I draw on the teachings of this book to help my students.
As you gaze at one and then the other, notice your breath pattern as you look at the various images.  How do you breath differently as you look at the two different collages?  Which photos lead you to breath easily, and which restrict your breath?
The collage to the right illustrates healthy posture.   The pelvic bones are rolled forward, the chests are open, the heads are up.  The poster on the left illustrates people tucking their tails and slouching.  You may notice that even fashion models on the left collage slouch - perhaps doing so is supposed to make them look sexy?!?!
 Click here to read  an article I wrote on posture and to see  more healthy posture collages.




Aloha, and happy reading!!
Barbara Helynn Robles
Copyrighted 2012 Barbara Helynn Heard
For more information visit www.lomilomi-massage
Email barbaraheard at msn dot com
Olympia, Washington  All materials are copyrighted. If you would like to post articles on your website or use it as training material, permission is granted as long as all contact and credit information remains intact. Thank you.