Grace Harbor Farms MSM cream
Grace Harbor Farms MSM cream is my first-line-of-defense first aid cream for joint pain.
I personally use Grace Harbor Farms MSM cream as my first line of defense first aid cream when my special shoulder aches.  
My shoulder
My shoulder has been "special" since the early 1990's.  In the past is sometimes just constantly ached.  Certain activities I did, including massage techniques I used, aggravated the shoulder pain.  Having an aching shoulder was a really bothersome limitation and irritation in my life!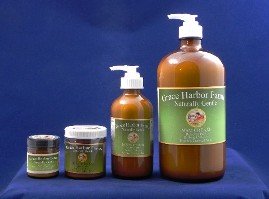 My MSM cream aha moment
A few years ago I received a free sample package of Grace Harbor Farms MSM pain relief cream. Preparing to dance in a hula performance one day I felt my shoulder aching. Without giving it much thought and certainly not expecting a miracle, I quickly smeared the MSM cream sample all over my shoulder just before going on stage.    
When I returned to the dressing room after the performance I realized with amazement that my shoulder had been pain free and had moved smoothly the entire time I was on stage, and it was still pain free.  WOW!  Being pain free leads to graceful dancing!  YEAH!!
Does MSM cream heal or simply relieve pain?
In my experience MSM cream sooths and relieves pain, but does not eliminate the source of the pain.  That's why I call it my first aid cream.
Our bodies armoring response to injured tissue:  
Think of how children move:  their bodies usually move so much more smoothly and freely than older people. They easily stand straight and they easily sit and move in a relaxed manner.  Children's bodies usually present with trust and innocence - their bodies, minds and spirits have not yet begun carefully guarding against injury.  Like you, when I was a child I was like this too!
Years ago my shoulder initially gradually began to hurt as a result of repeatedly using it in a less-than-optimal positions; it was not injured in a traumatic fall or accident.   Like many other people, my body had assumed an armored or protective position after minor injuries – physical and emotional – in my younger years.  My shoulders pulled forward and my butt stuck out behind.  I looked tense and anxious.  I didn't laugh easily.
 Again like many other people, even after my initial injuries had healed, my body maintained its protective position, and this led the long term pain I've felt in my shoulder.   Thankfully, I've found long term ways to relieve this pain.
How can we effectively eliminate pain in the long term?
MSM relieves my pain for hours.  This is a good start! Receiving skillful bodywork, which for me includes massage and chiropractic, helps reposition my body in ways which relieve the pain for days or even weeks.   However, if I resume body armoring or guarding, the pain returns.  
The good news is that using MSM cream to eliminate or reduce my pain helps me to maintain relaxed, non guarding posture, extending the length of time I maintain the benefits of good bodywork.
For me the true long term solution to eliminating my shoulder pain has been improving my posture.  This has taken becoming much more aware of how my body feels, and the options I have to change.  I've come a LONG!! way on this path and I am still on this very wonderful and rich journey.
I tell you from personal experience: You are not inevitably stuck with poor posture!!! Good posture can be learned!!!!  You can learn to have good posture!!
What is in Grace Harbor Farms MSM cream?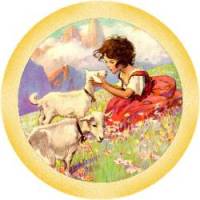 Grace Harbor Farms MSM cream contains distilled water, pasteurized goat milk, MSM, avocado oil, jojoba oil, emulsifying wax, stearic acid, vegetable glycerin, vitamin E,  citric acid, grapefruit seed extract.
This cream is sold with or without these healing essential oils: peppermint essential oil, rosemary essential oil, eucalyptus essential oil, lavender essential oil, and tea tree essential oil   
 What is MSM?
MSM, or methlysulfonylmethane, is an organic sulfur compound naturally occurring in many plants.  MSM provides sulfur, a vital building block in joints, cartilage, skin, hair, nails and methyl groups which support many a vital biochemical processes in the body, including energy production. 
MSM is sold as a dietary supplement, often in combination with glucosamine and/or chondroitin for use in preventing or treating osteoarthritis and other joint pain. MSM used in supplements is synthesized and when made correctly is identical to that naturally occurring in plants.
What conditions has MSM cream helped?
Joint and muscle pain including arthritis, back-knee-shoulder-neck-etc pain, post surgical pain, whiplash
Skin conditions such as eczema, athletes foot, rosacea, psoriasis, rash , sunburn, plantar warts, cracked heels
Fibromyalgia
Lupus
Hemorrhoids
And more….
Where is Grace Harbor Farms?
Grace Harbor Farms is a small, family owned goat farm is in Custer, WA.  Grace Harbor Farms provide a host of goat dairy products in retail locations in the Pacific northwest and worldwide via their online store.
How can I order MSM cream?
 Click here  to visit the Grace Harbor Farms website to order this very effective pain relieving MSM cream.  After emailing email them, expect to receive  a personal and efficient response from business owner Grace Lukens and her staff.!  Please tell them you learned of them through me and my website.

My wish for you:
I hope Grace Harbor Farms MSM pain relieving pain cream will help you as it helps me!!!  
I put MSM cream on my shoulder this morning to relieve the gentle ache in my shoulder.  Voila!  I sit here relaxed and pain free writing to you.  SMILE!
Mahalo a  malama pono ~ thank you and take good care..

Barbara Helynn Robles