Buddha Blends Massage Cream

I love the way Buddha Blends Body Therapy Cream feels!!!  I highly recommend this cream for anyone giving deep tissue massage.
This special Body Therapy Cream was originally formulated specifically for use in giving Mana Lomi® massage and it is the primary massage lubricant I now use. I love this cream because of its wonderful ability to allow both glide and drag which facilitate the deep yet gentle, bone deep Mana Lomi® massage that I offer.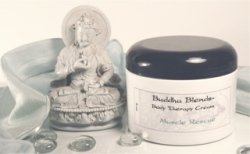 Because this cream contains no water there is no chill for the client with initial application, as was the case with other massage creams I previously used.  This cream is solid at room temperature and warms quickly in my hands. The beeswax it includes makes it feels satiny on my skin rather than oily. I like this cream so well that I often rub a bit into my own skin while bathing.
I'm also pleased that my sheets continue to smell fresh - no rancidity and I am using only COSTCO laundry soap.

Buddha Blends massage cream is made of a variety of oils and beeswax. It contains no preservatives or water and is made in small batches. The ingredients are often organic and wild crafted products, though not consistently enough to label it. Itis formulated in a base of pure coconut oil, apricot oil, almond oil, rice bran oil, sunflower oil, aloe vera oil, vitamin E, rosemary seed extract, essential and aromatic oils.
I buy this  massage therapy cream by the gallon. Although the price is about twice as much as that of Biotone or Sacred Earth cream, the cost per massage is about the same because I use about half as much.   I personally prefer the unscented cream for daily use in my practice, but it is also sold in a large variety of wonderful scents which many massage therapists love!

This Body Therapy creme is made and sold with love by Renee Duvall, an independent small business woman in Oregon and the wife of Mana Lomi® founder Dr. Maka'ala Yates. She has been a student of healing since the 1970's, and is a long time practitioner and teacher of both Shiatsu and yoga.
Go to website www.buddhablends.com to order this marvelous massage cream.  When you email Renee, you can expect to receive a personal answer from her as she wears all the hats in her business!  When you order, please mention that you heard of Buddha Blends from me and my website.

I hope you will give Buddha Blends body therapy cream a try!!!  When you order, please mention that you heard of them from me and my website.

Mahalo a  malama pono ~ thank you and take good care.


Barbara Helynn Robles