SOME of my FAVORITE BOOKS
on HAWAIIAN HEALING & CULTURE
Many books on healing and on Hawaiian culture have helped me to develop my skills and sensitivity as a healer, a massage practitioner and a lomilomi practitioner. What a wealth of inspiration and information is contained within the covers of these books! I hope that you will love and benefit from them as I have.

I offer my deep gratitude to the many authors represented here who have applied themselves to putting their stories and wisdom down onto paper and thereby contributing to the creation of global community as we share our cultures with each other.
biographies by & about Hawaiian healerS

Change We Must, My Spiritual Journey by Nana Veary
I have read this autobiographical book repeatedly. It's full of love and wisdom, and I return to it whenever I need a reminder to ground me in love.

Click here to read more about Change We Must, and to add your own comments.


Clouds of Memories by Mona Kahele
Clouds of Memories is Mona Kahele's story. Mona was a native Hawiaian community leader who began writing as a child and continued throughout her life, documenting her own life story as well as rich cultural and historical information. This is a juicy book to read, a real delight!!

Click here to read more about Clouds of Memory, and to add your own comments.
Voices of Wisdom: Hawaiian Elders Speak by MJ Harden with photography by Steve Brinkman
I especially love this book and go back to it over and over again. It contains magazine length articles about 24 Hawaiian elders, complete with marvelous photos. The author personally interviewed each of the highlighted elders. http://www.lomilomi-massage.org/book-voices-of-wisdom.html

The book is divided into these eight sections: nature, spiritually and healing, preservation and history, activism, dance-chant-geneology-music, arts and crafts, canoe and the next generation. One of the highlighted elders is Aunty Margaret Machalo, from whose lineage Mana Lomi® developed.
Click here to read more about Voices of Wisdom,and to add your own comments.

A Hawaiian Life by George Kahumoku Jr.
This autobiographical book tells the story of his healing. A 125 page book, it's a fun, warm and easy read book.




books about lomilomi

Hawaiian Lomilomi Big Island Massage, by Nancy Kahalewai
I have used this book as a foundation text book for lomilomi classes I have taught in massage schools. It's written in an easy to read manner and is a wonderful introduction to the history of traditional lomilomi from the Big Island and to Hawaiian concepts related to our bodies, health and healing.
I also appreciate the chapter introducing the many well known and revered Hawaiian healers of the past 50 years. Finally, this book has an interesting final chapter discussing the introduction and development of Temple style lomi.
Click here to read more about Hawaiian Lomilomi, Big Island Massage, and to add your own comments.

Wise Secrets of Aloha by Harry Uhane Jim and Garnette Arledge
Kahuna Harry Uhane Jim is a healer from Kauai currently sharing the lomilomi training of his lineage with many people both on the US mainland and in Hawaii. His work encompasses both the physical and esoteric spiritual realms. This book is primarily told in story format, making it fun and easy to read. It includes testimonies from many people who have experienced Harry's work and teaching.
Click here to read more about Wise Secrets of Aloha, and to add your own comments.

Na Mo'olelo Lomilomi, the Traditions of Hawaiian Massage and Healing edited and with an introduction by R Makana Risser Chai
This research book on the history of lomilomi can be a slow read, but the rewards are rich! It connects us with treasured voices from the past. This book is an extensive compliation source information gleaned from newspapers and historical archives of the 1800s. I highly recommend it for serious students of lomilomi.

Click here to read more about Na Mo'olelo Lomilomi, and to add your own comments.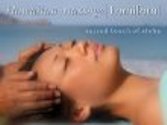 Hawaiian Massage: Lomilomi, sacred touch of aloha by R Makana Risser Chai with photography by John C. Kalani Zak
This coffee table picture book highlights both current and "over the rainbow" Hawaiian practitioners of lomilomi.
Click here to read more about Hawaiian Massage Lomilomi, and to add your own comments.




books on Hawaiian spirituality & healing practices
Na'auao Ola Hawaii, Hawaiian Principles and Practices of Being Well
by Dr. Maka'ala Yates, D.C.
This book is written by Mana Lomi® founder, my teacher, Dr. Maka'ala Yates, D.C. He shares in this book the ideas about healthy living he's deveoped and experiences he has had over the span of his lifetime as a Hawaiian healer. Maka'ala is all about "waking people up" to be the best that we each are. Maka'ala's work focuses on breaking the blueprint to disease in our communities by developing our blueprint for health. He heavily emphasizes the way we use our thoughts, and how we can intentionally tame our minds to support our health and well-being, all coming from a Polynesian prospective.
In this book Maka'ala also provides insight and information on breathing, eathing, sleeping, fasting and cleansing, and meditation.
I highly recommend this book, especially for students of Hawaiian and Polynesian healing arts.

Man, God, and Nature by Michael Kioni Dudley
Over a period of several years I had to re-start reading this 150 page book several times before I could get through the description near the beginning of the book of the Hawaiian view of the Universe. As a Westerner who was raised visualizing our earth as round, and as a person who has difficulty with spacial directions like left and right, I was totally lost by his spacial descriptions of the Hawaiian view of the universe.
However, once I got past the third chapter, I was deeply touched by his description of the relationship between people, nature and Spirit. I 'got' the experience of relating to beings in nature just as I relate to people. I 'got' the feel of plants, animals and elements being conscious beings.. Because of this book I now experience plants in a special, personal way.

Na Pule Kahiko by June Gutmanis
This scholarly book contains many Hawaiian prayers in Hawaiian, translated to English, and with accompanying commentary. It reads like a reference book so I consult it occasionally when I have a particular interest, but have never read it from cover to cover.

Hawaiian Religion and Magic by Scott Cunningham
This book is written for the lay person and introduces the people and deities of Hawaii, aspects of traditional Hawaiian culture and religion, and what the author (and some other people) identify as magic and sorcery. The author has studied and written numerous books about magic and witchcraft in various parts of the world.

Ho'oponopono by E Victoria Shook
This book explores the use of the traditional Hawaiian family oriented process of ho'oponopono in different contemporary settings outside of Hawaii. It presents ho'oponopono as a problem solving process. Written from the perspective of a social worker, this is indeed an interesting book.

Zero Limits, The Secret Hawaiian System for Wealth, Health, Peace, and More by Joe Vitale and Ihaleakala Hew Len
This book explores one manifestion of ho'oponopono. The book and related workshops have made a BIG marketing splash and hav eintroduced the concept of ho'opono to many people world wide..
The line of ho'oponopono explored in this book comes through the lineage of Mornah Simeaona whom my kumu Maka'ala Yates identifies as one of his particularly influential teachers. I appreciate the overlap in concepts between my studies with Maka'ala and the content of this book. However, while I am fascinated by the book's content, Vitale's writing voice and style don't sit well with me. None the less I persevered in completing the book and for me the gold came at the end.
Click
here
to go to Zero Limit's website.

Hawaiian Herbal Medicine, Kahuna La'au Lapa'au by June Tutmanis
The bulk of this carefully researched book is an encyclopedic like description of herbs used for healing in Hawaii, including descriptions of the plants, full page color illustrations and discussions of illness and recipes for use of the herbs.
I especially enjoyed the first part of the book which is told in story format. I get a feel for all aspects of life related to illness, health and healing by reading this book.

HA - Breathe! by Elithe Manuha'aipo Kahn, PHD
This slim book explores the three different uses of breathe in healing and in meditation. Noho pu is a passive meditative contemplation which opens the pathway to ho'ike - enlightenment. 'A'ala ha, active meditative contemplation, uses repetitive o'ono chants to manifest personal desires and enhance health through revitalizing and toning the internal organs. Ho'omana, storing breath work, builds mana, energy and personal power to overcome life challenges.
Click
here
to go to Elithe Manuha'aipo Kahn's website.


books focused on Hawaiian values

Managing with Aloha by Rosa Say
This book inspires me to treat my massage clients, colleagues, students and teachers with the same care and respect I treat my family and friends. Author Rose Say shows how business managers working in the Hawaiian hospitality industry can use Hawaiian values to enhance the quality of life for both their employees and guests and how this will naturally lead to their businesses to prosper. What she writes is applicable to all of us!
Click here to go to Rosa Say's website.

Ku Kanaka by George Ku'eu Sanford Kanahele
George Kanahele explores the question "Who and what is a Hawaiian?" While it's a slow read, this fascinating and in depth book held my attention all the way through it's 500 pages. The six sections are titled: Religion-Mythology-and-Ritual, Space-Time-and-Place, Science-and-Technology, Economics, Leadership-and-Politics, and the-Aloha0Society. Author Kanahele is a Hawaiian born and raised and internationally educated and traveled scholar.


Hawaiian history books

Nana i ke Kumu (Look to the Source), volumes 1 and 2 by Pukui, Haertig and Lee
This two volume book is very rich and is the combined work of a group of dedicated people over a number of years. Volume 1 is organized like an encyclopedia making it easy to look up information on many various aspects of Hawaiian culture. Volume two is a bit longer and is organized thematically. The themes include: childhood, man & woman, holiness & healing, dreams & symbols, qualities of aggression, shame & guilt, extrasensory perception, and finally self image.
Both volumes are a must read for any serious student of lomilomi, particularly those who did not grow up immersed in Hawaiian culture and tradition.
Ancient Hawaii, Pele, Goddess of Hawaii's Volcano and Voyagers, all by Herb Kane
Herb Kane is a historical artist who creates paintings and picture books for adults. For me, his books are the most effective, easily available way there is to get a real feel and taste for life in Hawaii in previous times.
Click here to go to Herb Kane's website.

Na Kaikamahine 'o Haumea, Daughters of Haumea, Women of Ancient Hawai'i, by Lucia Tarallo Jensen
This book is a treasure trove of information about women in Hawaii before the 1819 abrogation of the kapu system. It is artfully done with beautiful photos by Lucia's daughter Natalie Mahina Jensen. It is a scholarly book best read a chapter at a time. My favorite chapter is the one on physiotherapy.

Tales from the Night Rainbow by Pali J. Lee and Koko Willis
This book is told in first person voice of a woman named Kaili'li'ohe who lived on Moloka'i in the 1800's as recorded by her children and grandchildren. It is authored by her great grandson Koko and his wife Pali. This book tells the story of family customs and responses to historical events of the time. Told as it is in first person, reading it feels easy like listening to my own grandmother telling stories of her youth. It includes the now widely known story of the Bowl of Light.

Ho'opono ~ the Hawaiian Way to Put Things Back into Balance by Pali J. Lee
This content in this book overlaps that in Tales from the Night Rainbow by the same author. In my mind these two books blend together. Ho'opono picks up some of the same themes introduced in Tales of the Night Rainbow and carries them from the past into current time. Like Tales of the Night Rainbow, this book is also written in the first voice, but it is the direct voice of author Pali J. Lee rather than the voice of her husband's great grandmother. These books are both all about goodness. I smile and slow down reading them.

Moloka'i and The Stone Kannon by A.O. Bushnell
I love these historical novels, and recommend anything Mr. Bushnell has written! (He's written several more historical novels which I haven't yet read.)
The Stone Kannon follows Japanese immigrant laborers from Japan to Hawaii in 1868. Molokai'i tells the story of the leper colony on Moloka'i. Both books offer gripping tales of the highs and lows of being human.

Shark Dialogues by Kiana DavenportThis epic feminine saga focuses on a Hawaiian family and is a historical novel set in Hawaii in the 1800s. The author does a great job of bringing history and strong people alive!
non-Hawaiian books about ways to care for our bodies that have helped me

8 steps to a Pain Free Back by Esther Gokhale: This book teaches the basics of how to move and to rest: how to sit, stand, lie, walk and lift. It has helped me immensely to improve my posture. I recommend it to all of my massage clients and students.
CLICK here TO READ MY EXPANDED REFLECTIONS AND RECOMMENDATION OF THIS BOOK..
Click here to go to Esther Gokhale's website.

The Art of Breathing, Six Simple Lessons to Improve Performance, Health and Wellbeing, by Nancy Zi: I've used this book to help me come to better know my breath, and to breath more gently and fully. It was easy for me to follow. Although she also sells a related DVD, I prefer learning from the book because I can go at my own pace.
Author Nancy Zi has lived extensively in both China and the United States and is both a chi kung expert and a professional opera singer and voice teacher. Drawing on this background she created "chi yi" - the art of breathing - her concise, highly effective method of teaching abdominal deep breathing.
Click here to go to Nancy Zi's website.

What the Foot
by Gary Ward:

What the Foot
has helped me immensely to more specifically feel the movement patterns in my own body, and to make shifts in my focus as a move in ways that result is smoother and more healthy movement. It's an expensive book which I bought only because another movement specialist and body worker who I think highly of strongly recommended it. I read it carefully and have definitely gotten my moneys worth in the improvements I feel in my own body, and in the greater understanding I have of my clients' bodies. The book has fully inspired me to attend Gary Ward's classes in the USA in the next year. I'm very much looking forward to learning from Gary Ward in person!
I highly recommend this book for health professionals who support others in moving comfortably, gracefully and efficiently. I expect it would be overwhelming for readers without a strong background in anatomy.
Click here to go to the What the Foot website.
Click here to go to Gary Ward's AIM (Anatomy in Motion) website.
What's your favorite book
about healing and/or Hawaiian culture?
SHARE YOUR RECOMMENDATIONS, PLEASE!
Could you use a few ideas to start your creative juices flowing?
* Open with a juicy, attention grabbing thought. This will appear below in the summary.
* Tell us how this book influenced your life.
* Tell us how this book touched your heart.
* Tell us what you like about this book.
* Tell us what made this book easy or hard for you to read.
* Tell us about the book's author.

EDITING: I may correct spelling and grammar errors and may make minor changes to wording for clarity.

Would you like to include a link to your website? I am usually happy to include a link to your website with your review. (I'll need to edit the link in.) Can you provide a link into my website? I'd appreciate that!