AWARENESS mASSAGE
Lomi LomI massage workshops
&

CHEST & BREAST massage workshops
also 
private  massage sessions
 with (Barbara) Helynn Heard, LMP 


i help massage therapists thrive While Giving transformative & highly effective Massage to Others.

I help Massage Therapists Avoid Becoming Injured and/or burning out.

Students say my massage workshops
are powerful, inspiring, tranformational & also great fun!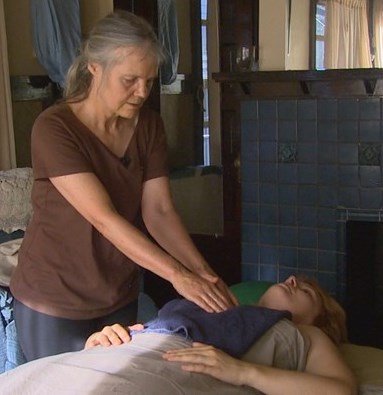 The lomi lomi and chest/breast massage workshops I teach are designed to inspire both beginning and experienced massage therapists to develop awareness and presence within our own bodies, minds & spirits.
I am passionate about helping my students (1) develop sensitive palpation skills, (2) discover ways to most effectively use our body weight, and (3) cultivate self-awareness and self-love, all in order to to enable us to give transformative and highly effective massage to others. In this way we support peace and healing in our communities on many levels. 
I am committed to helping massage therapists adopt ways of working which minimize burnout and minimize injury to our backs, shoulders, wrists, thumbs and other parts of our bodies so that we can to continue to practice massage well into our elder years if we so desire.

As massage therapists  we have the opportunity to facilitate special journeys for our clients through their own body-mind-spirit, with body as our entry point focus.  We serve as a skillful tour guides to help those we touch to appreciate their bodies, to enjoy their bodies, and to experience their bodies - and by extension their minds, spirits and entire lives - as truly amazing.  As we facilitate this tour of body-mind-spirit for our clients, they often experience a reduction or elimination of pain and they develop greater ease in moving. Via skillful massage, we help our clients to nurture their health and well-being. 
The lomi lomi massage I practice and teach is rooted in the lomi lomi lineage from the Kona district on the Big Island (Hawaii) via my 13 years association with my mentor, Mana Lomi® founder, Dr. Maka'ala Yates .  This form of lomilomi uses bone deep yet gentle, loving touch and has a strong problem solving, treatment component. This work is highly effective treatment massage that also feels wonderful to receive, making it equally valuable in medical and wellness focused settings.



~  my PRIVATE massage PRACTICE ~
IN OLYMPIA, WA


Mahalo a malama pono ~ thank you and take good care.
~ (Barbara) Helynn Heard, LMT ~