Would you like to learn to give
deep yet gentle, lomi lomi massage?
MAHALO! ~ thank you for visiting my website.
You will find here a wealth of information, wisdom and stories about how lomilomi massage, and specifically Mana Lomi®, can support health and healing ~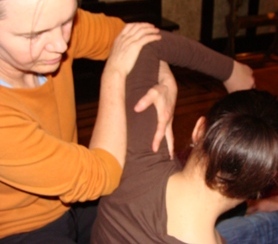 your own, and if you massage others, also that of the people whom you massage.
Mana Lomi®, the clinically focused yet spiritually grounded format of Hawaiian massage which I practice and teach, is bone deep yet gentle.
Lomi lomi is a way of life which for me begins with choosing again each day to live in right relationship with all living beings, with all elementals, and with Spirit.
Does this way of life call to you?
I will forever be a humble student of lomi lomi and Hawaiian healing arts with ever so much more to experience and learn. That said, I am happy to share with you aspects of Hawaiian healing arts as they have been shared with me.
• Do you dream of helping yourself and others manifest unlimited healing potential?
• Have you ever wondered what it would be like to feel and easily visualize the tissues deep within your recipient's body, as if you could see right through their skin?
• Would you like to know deep in your bones how to help your clients heal injured tissues and even injured spirits, and to have that inner knowing be second nature for you, to be as easy and natural for you as reading this paragraph is?
• Would you like to work both clinically and with mind-body-spirit connection at the same time?
These are some of the gifts that Mana Lomi® has given me,
and which are also available to you!!


Does this sound like a path you might like to travel? Please journey with me through this website..... and perhaps even beyond. This journey is simple, it's fun, it's exciting and it's certainly full of wonder! Do join me now!
This video highlights Mana Lomi® classes taught by both Mana Lomi® founder Dr. Maka'ala Yates DC and myself (Barbara Helynn Heard) in the Pacific Northwest and in New England.



"

I have worked closely with Barbara Helynn for the past 5 years. I enjoy many about her teachings: the work is so juicy, practical in it's application, and well delivered. The depth of knowledge that she works from inspires me to always find a way to put my best work forward for my clients' needs and my own vitality and longevity as a therapist. I highly recomend studying with Barbara Helynn!

"

Donna Hammers
massage therapist in Olympia, WA

~ 2010




"Taking your class has truly inspired me in so many ways, I am more intentional when I go into my massages. I stay present and in tune with my clients, I love it! Mahalo for being you!"

Amber Mauer

massage therapist in Kirkland, WA

~ 2010



Mahalo a malama pono ~ thank you and take good care..
Barbara Helynn Heard
PS: "Lomilomi" and "lomi lomi" are alternate spellings for the same word. I have used them interchangeably throughout this website.

people have commented on this site so far..... thank you everyone!