Subscribe to my newsletter
to receive news of
upcoming massage classes.
Story of Healing by Touch from Julie:
Healing from the Pain of Separation
by Julie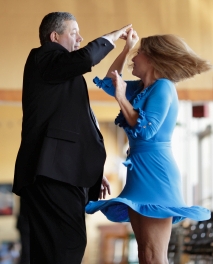 Oh my! I thought I had lost all of those juices.
After a separation from my husband I was still feeling raw and lonely. I attended a retirement party for a friend where there was dancing, and I was feeling particularly isolated and side-lined.

Along came someone I only knew professionally and he asked me to dance. I felt stiff as a board, but he was so light on his feet and knew how to humor and maneuver me. Within a minute we were swinging and swaying like an old couple. My colleague held me tight in a fast waltz. We did lots of whirling, and a wonderful dip at the end. Oh my! I thought I had lost all of those juices.

Without words, but through the touch one feels through dancing, I realized that I could feel connected with others, I could enjoy my freedom, and thoroughly enjoy myself.

I was okay!


Join in and write your own page! It's easy to do. How? Simply click here to return to Healing Stories by Site Visitors.
Barbara Helynn Heard, copyright © 2009-2015, all rights reserved