COMMUNITY MASSAGE CLASSES
a Healer in Every Family
Classes for Individuals, Friends and Couples
ARE THESE CLASSES A GOOD FIT FOR YOU?
These special classes which are offered for everyday folks who wish to develop skill giving massage. They are great for birthdays, anniversaries, dates for any special occasion, or just to treat yourself and/or your friends and loved ones.
People with a sincere desire to learn are welcome to participate. No previous massage experience is necessary. Come on your own, or come with a partner.
You'll love these massage classes if any of these statements describe you:
People tell you that you have good hands, and are always asking you to rub their back or shoulder. and.... you'd like to learn more.
You like to give or receive massage from friends, family and/or loved ones.
You would like to give massage to an ailing family member.
You wish to learn massage for use with family and friends but do not want to make massage a career.
You wish to learn massage without the 500 hour time commitment and $10,000 (and up) expense of massage school.
You are considering entering the massage profession but are not sure if you like giving massage to others. This is a perfect way to experience giving massage on a small scale before making the larger commitment.
You want to receive massage for a low cost.
You are a massage professional who has been out of the field for awhile and want to ease your way back in. These are great refresher courses.
You've taken my classes once and wish to learn more.
DESCRIPTIONS of MASSAGE CLASSES
GENERAL INFORMATION
The massage classes will be hands on experiences in which you will give and receive safe, warm touch which feels good, relieves stress, and helps keep us all healthy. With the rush and stress in our many of our daily lives, massage is a wonderful way to slow down and reconnect with family, friends and loved ones. Massage is also a good way to connect with our own sense of self.
You will learn basic massage skills which you can use over and over again for the rest of your life to support healing and create pleasure.
The style of massage I practice and teach is deep and yet also gentle, and very enjoyable!! This style of massage, called Mana Lomi®, is from Hawaii. Mana Lomi® is clinically focused to relieve pain and movement restriction while also being spiritually grounded; we learn to use compassionate, loving touch. Mana Lomi® feels wonderful to both give and to receive.
PRIVATE TUTORIAL IN MY OFFICE
Learn in a private massage tutorial at my office on Capitol Hill. This will give you lots of individual attentiona as well as privacy. This option is available for any 2-4 people: couples, family members, or friends. Either table or chair/floor massage as described below can be taught in a private tutorial.
Click here for information about scheduling and prices.
GROUP CLASS: MASSAGE on CHAIRS and/or FLOOR
note: there are 4 hour and 8 hour version of this class.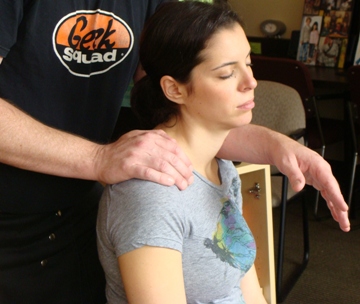 Individuals, friends and couples are all welcome to attend this class. Class size is limited to 12 students.

In these classes learn ways to help quickly relieve common aches and pains that your family, friends or partners may have while working in common settings with no special massage equipment, These massage techniques are done clothed and either on common chairs or on the floor, without oil or lotion, making them easy to use in any setting. Massage someone in your living room, your kitchen, your office, at the kid's soccer game, at your church retreat, or almost anywhere else!

Do quick 5 minute massages which are easy to integrate into your everyday home life. Alternately, use this massage to give longer sessions ~ take your time and luxuriate for half hour or more.

Is someone's neck, back or shoulder stiff, stuck or aching, do their hands or feet ache or do they have a headache? Learn massage that can give relief in just a few minutes.

Or perhaps you just wish to give massage for pure enjoyment and pleasure; this massage is good for that too.

I teach a variety of different techniques each session. Repeat the class to both reinforce what you've learned the first time around, and also learn other new techniques. There are endless ways to massage a clothed person without any special equipment!

Click here for class schedule, prices information, and to register.
GROUP CLASS: MASSAGE on a MASSAGE TABLE
Individuals, friends and couples are all welcome to attend this class. Class size is limited to 12 students.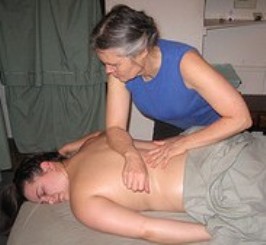 In these 4 hour massage classes you will both give and receive a stress releasing and wonderfully enjoyable massage. The massage is done on a massage table, with massage cream directly on the skin as shown in the photo. We also use strokes which are done through the sheets.

lomi - forearem up backGiving massage on a massage table is a great way to give a longer session because it allows the person giving the massage to use their body weight rather than their muscular strength. You will learn to use your body weight to create a soft yet deep touch that feels really good while you maintain your stamina as well as your focus.

Will you be nude? No. You will be professionally and modestly draped at all times.

Massage tables will be provided.

If you wish to learn a more extensive full body session on the table, after attending this class you may join one of the 3 day classes I also teach.

Click here for class schedule, prices information, and to register.
GROUP CLASS: SELF MASSAGE
In these 4 hour massage classes you learn ways to massage yourself to relieve common aches and pains such as headaches and/or stiff or painful joints - neck, back, shoulders, elbows, hips, knees or ankles. Learn strokes done with your hands, forearms and feet as well as techniques done with balls and other massage tools. Learn ways to use your breath and increase your body awareness. You can use the techniques you learn in this class to relieve your own aches and pains. You can also teach these techniques to your clients to use on themselves between sessions with you.

Because when you give yourself massage you are simultaneously the giver and the receiver, this is a fabulous way to develop your palpation sensitivity. This class will help you touch others in a way that is both more specific and more subtly perfect. You'll be more aware of what to look for in their tissues. And...... expect to have fun in class!!

Click here for class schedule, prices information, and to register.

GROUP CLASS:
A HEALER IN EVERY HOME, a weekend retreat on a lake house in Olympia, WA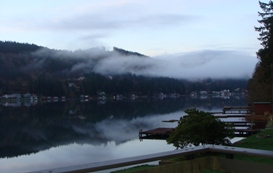 This will be a slow restful time filled with wonder, connection, reflection and renewal, and of course massage.

Arrive late Friday afternoon or early evening to share supper and a special evening program. Saturday will be a full day of learning to give and receive massage which feels marvelous while being very effective at relieving pain and discomfort and helping people move more easily. On Sunday we share more movement, meditation and touch, then end with a simple lunch.

Click here to learn more about the retreat.

Click here for retreat schedule, price information and to register.
WHO IS THE TEACHER of these MASSAGE CLASSES?
Babara Helynn Heard, LMP

My name is Barbara Helynn Heard. I have been a licensed massage practitioner with an active private practice since I graduated from Brian Utting School of Massage in 1996 I've taught lomilomi (Hawaiian massage) since 2006.

I love teaching massage classes. In my teaching I emphasize body awareness, use of one's weight, development of keen palpation skills and the use of the creative power of the words. My intent as a teacher is to see the Light in each person and to help each student to be and to do their very best.

WA massage license # MA 00009734

Read more about me here.
What students say about
massage classes
with Barbara Helynn Heard
My fiance and I did a private couples massage class with Barbara yesterday and it was fabulous. Barbara is a veteran masseuse and massage instructor. We had fun and learned some great techniques. We'll definitely be following up with her about repeat classes!
~~Ryan~~

We got an Amazon Local Deal and it was the best online deal or massage experience I have had. It is a combination of multiple factors- both skill and good energy. We felt very comfortable with Barbara's presence, as well as her skill level in both teaching and practicing massage. After one class, I can now give my partner a great massage! We are definitely coming back for more and want to spread the word about this hidden gem in Capitol Hill! :)
~~Claire~~



Claire K and Ryan R.
soon to be newly weds as of June 2013
nurse and IT professional

I know Barbara as a massage therapist and teacher. Her style of massage meets my needs for joint and mobility work. Her teaching style is positive and engaging. She enjoys and relishing discovering body and mind's connections and mysteries. Her touch is a great opportunity for healing and discovery. Her Hawaiian traditions attracted me to her initially and continue to support my healing experience.





Richard Cahall, retired farmer, 2013

I studied in two massage classes taught by Barbara. Her instruction and feedback on technique is specific and very easy to follow. I made great strides in my work following my study with her, and other students I spoke with had similar experiences.

I attribute the high quality of her work to her careful attention to detail as well as her pure enjoyment of massage and teaching. I highly recommend you experience both massage from her as well as her wonderful massage courses.



YiAn Quach

manager in a restaurant

NYC, NY and Seattle, WA ~2013






"

Your love of Mana Lomi

®

and the respect you have for all the previous teachers of Lomi Lomi is so palpable.




I really valued the many suggestions you offered for not only checking in with one's own posture, breath and thoughts, but ways the giver/therapist could offer these tips to the receiver/client.




It is a joy to watch you teach. I feel you were meant to be a teacher. Thank you for including me with the professional group. "



Terrie Johnston, community outreach officer with the Seattle Police Dept
massage enthusiast ~ 2010






" Lessons with you and your massage classes have really helped me develop my core teaching philosophy which is solution oriented. A shift in perception from what we lack to what we have that is strong and amazing while still working toward balance. You are an amazing person and a blessing to have in my life."


Jessica, Townes-Camara

Pilates instructor in

Seattle, WA
~ 2010



Mahalo (Thank you) everyone for your kind words and your support!!
Barbara Helynn Heard