Barbara Helynn Heard
WHO I AM: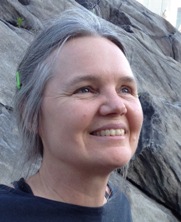 I love, practice and teach Mana Lomi® - a form of highly effective, bone deep yet gentle, clinically and structurally focused lomilomi developed by my mentor Hawaiian healer and Mana Lomi® founder Maka'ala Yates D.C. Lomilomi has been the guiding force of my life since 1996 and I have been honored since 2005 to teach lomilomi both as massage continuing education classes and also in several massage school programs.
I love teaching people highly effective, scientifically focused clinical thinking and hands-on techniques which are spiritually grounded in the foundation of Spirit-Nature-Humanity. In my teaching I emphasize body awareness, use of one's weight, development of keen palpation skills and the use of the creative power of the words. My intent as a teacher is to see the Light in each person and to help each student to be and to do their very best. I help students develop a quality of touch which is deep yet gentle, and also to integrate spiritual and/or emotional qualities into bodywork sessions if so desired to support healing on multiple levels.
I began doing massage as a teen-ager in the 1970's. I graduated from Brian Utting School of Massage in Seattle, WA in 1996 and since then have maintained an active private practice in Seattle called Awareness Massage.
My name, Barbara Helynn Heard, reflects who I am. The name Barbara was given to me by my parents and means foreigner. This concept of foreigner reflects the importance of my connection with people of other cultures while also honoring my own lineage. My middle name Helynn signifies my responsibility and privilege as a light carrier. Heard is my husband's family name and is the surname of people who "owned" his ancestors as slaves. Forgiveness and healing is happening within this special family.
MY CONCISE PROFESSIONAL BIO:

Barbara Helynn Heard, LMP, of Seattle, Washington teaches Mana Lomi®. She specializes in traditional, clinically and structurally oriented lomilomi. Her lomilomi journey began in 1996, and she has studied lomilomi and Hawaiian spirituality with several teachers since then.
Since 2003 she has aligned with native Hawaiian healer and Mana Lomi® founder Kumu Maka'ala Yates D.C.. Barbara Helynn graduated from Brian Utting School of Massage in 1996. She has a private practice in Seattle called Awareness Massage.
Washington State massage license number MA 00009734
AMTA member since 1996 (American Massage Therapy Association)



A BIT OF JUICY TALK STORY:
In addition to my passion for practicing and teaching Mana Lomi®, I love to dance hula. Hula is my joy! I dance hula at Halau Hula o Na Lei o Manu'akepa where we are both dancers and cultural practitioners. I love the Hawaiian language, and I avidly read books and articles about Hawaiian language, history, culture and spirituality. I enjoy networking with other lomilomi folks from various lineages.
I live in Seattle with my wonderful husband who is also a healer. Gary works as a chemical addictions counselor. I love my cats, my garden and our two grown children. Awareness Massage, my private practice, is in our home. My life is full, and I feel grateful to live in this auspicious time when people from cultures worldwide are coming together to share our lives and our earth home.
Would you like to learn about my personal lomilomi journey in more detail? I've written about my journey in three chapters. To read chapter 1,
click here
.
This is a lehua blossom which grows on ohia trees in Hawaii. Ohia trees are one of the first plants to return to an area after a lava flow. Lehua is one of my names.
E malama pono, take good care,

Barbara Helynn Heard
MY LOMILOMI JOURNEY
CHAPTER 1: I began learning massage as a teenager in the 1970s by exploring with my sister. I discovered lomilomi in 1996 after graduating from massage school. I studied "lomi pololei" with Shawn LaSala Kimmel.... read more
CHAPTER 2: I continued my lomi studies first with Aupuni Iwi'ula and then with Kim and Jim Hartley.... read more
CHAPTER 3: I "came home" to Mana Lomi® in 2003 when I began studying with Dr. Maka'alaYates D.C. Practicing and teaching Mana Lomi® brings me great joy on all levels!! This is fabulous work!!!...
read more