my private lomilomi massage practice
in Seattle:
AWARENESS MASSAGE
Call me today to schedule your healing massage session
(206) 323-5871
"You're helping me to inhabit all parts of my body and to feel that they are all my body and that they belong to me. I don't want to give up on them, or not inhabit them in some way. I want to get better and be the best I am and I also want to accept the way I am. Thats a strange kind of paradox."
Jana Ostrom, pharmacist, wife & mother, and survivor of a severe accident
"Using lomilomi Barbara brings harmony and peace to my body and mind with her gentle knowing touch. She breaks the inner chains and sets my body free. Leaving her I sometimes think I could fly. I feel a euphoria and joy."

Dennis O'Leary, retired sales person, photographer, potter and family man

How can a lomilomi healing session with me help you?
When you walk out the door after a healing session with me, expect to have experienced one or more of these benefits:
You will be able to breathe more easily.
If you walked in stressed, anxious or wound up, you'll walk out calm, relaxed and slowed down.
If you walked in feeling pain, this pain will have been eliminated or significantly reduced.
You will move more easily and gracefully because restriction in your joints will have been freed or eased.
You will be more in touch with your body. (Have you ever felt like a head without a body? Massage reconnects your awareness with your body.)
You will feel the love, beauty, wisdom and strength within you.
You will more easily be able to remain calm in times of trouble.
Injuries in your joints and muscles tissue will have been supported in healing.
You will have learned tips about ways to sit, stand, walk, lie down or do other activities that will help you develop and maintain healthy posture.
Results will be immediate and in many cases long term. People often choose to receive massage from me weekly, biweekly or monthly as part of their commitment to their own health maintenance. Receiving regular massage helps to accumulate and reinforce the benefits of each session. Other people come on an occasional, as needed schedule.
What style of massage do I use?
I combine clinical expertise and finesse in lomilomi – Hawaiian Massage - with love to create a place of safety where true healing can occur.
The foundation for my work is Mana Lomi ®, a clinically focused form of Hawaiian lomilomi massage. Mana Lomi® is both gentle and deep, and flows with a soothing rhythm. The techniques used include strokes to support circulation, compressions, stretches, joint rotations, energetic work, use of thoughts and visualizations, and more. Mana Lomi® can energetically reach to the depth of the bones, or soul deep as Hawaiians believe, allowing full healing to take place if so desired. Click here to learn more about Mana Lomi® massage.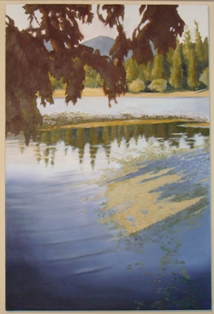 I also work with breath, helping the recipient to explore their breathing patterns and to find ways use their breath to soften subconscious holding patterns in their bodies, minds and spirits.
I occasionally use guided meditations to help the recipient feel and shift energies in the tissues.
And importantly, I pray. I pray silently most of the time, calling on Spirit for guidance and support as I work. I occasionally open a session with a spoken prayer.
Clothed or unclothed?
Most of my lomilomi sessions are done with the client undressed, covered modestly by a cotton sheet, and sometimes blankets for warmth. I remove the drape from one section of the body at a time as I work, then re-drape that section when I move to another area.
Do I use oil?
I use a cream or oil to allow some slide on the tissue. Occasionally, especially when doing shorter sessions, I'll work instead without lubricant and with the client fully dressed.
Who are my clients?
I see people from many walks of life. I occasionally see people as young as teenagers and as old as….. there's no limit. Most of my clients are over 50. I especially enjoy working with:
dancers, musicians and other people who intentionally use their bodies
elders
people experiencing chronic pain
people longing for healthy touch
people grieving loss
people with whom I share community: my hula and African dance communities, my Quaker community
As you can see elsewhere on this website, I am an instructor of Mana Lomi®. I occasionally tutor students of Mana Lomi® in my office.
What is my background?
I've been doing bodywork for over40 years - since I was teenager. I've been a licensed massage practitioner offering lomilomi in my Seattle based private practice since 1996. In addition to practicing bodywork, I teach lomi lomi continuing education classes for massage therapists. I am certified teach Mana Lomi®. Click here to learn more.
Where is my office and what are my hours?
Click here for information on location and hours.
How much does a session cost?
Click here for information on my rates.