Subscribe to my newsletter
to receive news of
upcoming massage classes.
Where on earth
are the Mana Lomi ® teachers?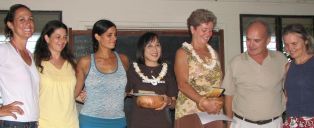 Ten teachers are certified to teach Mana Lomi®. We work as a tight team, and we teach worldwide. If you truly desire to attend one of our classes, then it can happen! I know this because I remember how I started on this journey! To take a class someplace not mentioned here, please contact us. We are happy to teach in new places!!!
Contact List
for Teachers of Mana Lomi®